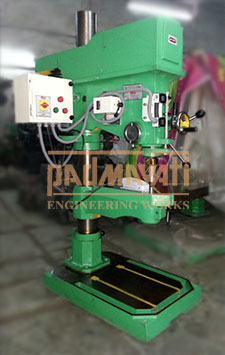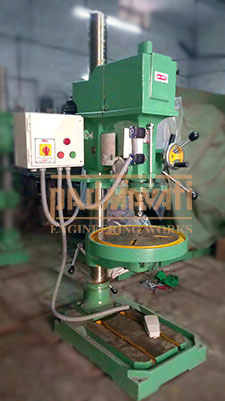 Send Enquiry
The PA-DRILL Heavy Duty Pillar Drill is an ideal machine for the demanding precision drilling. This robust column drill press is equipped with an Electric Motor of 1 horse power and 8 different speed settings, with a minimum speed of 115 RPM and maximum speed of 2820 RPM!
PA-DRILL's Pillar Drilling Machine allows you to achieve the best drilling results with materials such as Mild Steel, Stainless Steel, Brass, Copper, Alloy Steel, Aluminum and Cast Iron. Use the keyed chuck to securely fasten different types of drills (max. drill bit- Ø: 32 mm). The V-belt drive is on top of the machine, well protected in a metal housing. 4 Speeds are directly driven on four-step pulley and another 4 speed by engaging gear with the Spindle Pulley.
The worktable (350 x 350 mm) is adjustable in height with Rack-Pinion Arrangement. In addition, the drilling depth stop allows you to determine how deep the drill should travel. Since the base plate is equipped with screw holes, you can easily attach the pillar drill to your workbench.
Features:
Cast iron base for maximum stability
MT3 Taper Spindle
In height adjustable working table with Rack-Pinion Arranagement
PARAMETER
SPECIFICATION
MODEL NO.
25PPD
BRAND
PA-DRILL
DRILLING CAP. IN STEEL
25 mm
DRILLING CAP. IN C. I.
32 mm
TAPPING CAP. IN STEEL
M18
SPINDLE TAPER
MT3
SPINDLE SPEED (RPM)
115, 210, 325, 520
660, 1090, 1750, 2820
NO. OF SPINDLE SPEED
8
SPINDLE TRAVEL
150 mm
TYPE OF FEED
MANUAL
FINE-FEED ATTACHMENT
YES
DIA. OF COLUMN/ LENGTH OF COLUMN
87 mm/ 1400 mm
MAX. DIST. BET. SPINDLE CENTER TO COLUMN FACE
255 mm
MAX. DIST. BET. SPINDLE NOSE TO TABLE
680 mm
MAX. DIST. BET. SPINDLE NOSE TO BASE PLATE
1060 mm
UP-RIGHT TRAVEL OF WORKING TABLE
400 mm
SIZE OF WORKING TABLE
350 x 350 mm
SLOT SIZE IN WORKING TABLE
5/8''
SIZE OF BASE PLATE
690 x 420 mm
SIZE OF 'T' SLOT IN BASE PLATE
5/8''
WORKING SURFACE OF BASE PLATE
450 x 315 mm
ELECTRIC MOTOR
1 HP/1440 RPM
BELT
A50
WEIGHT OF MACHINE (KG)
210 Kg
OVERALL DIMENSION OF MACHINE (H X W X L)
1770 x 725 x 470 mm
WOODEN BOX DIMENSION (H X W X L)
1900 x 850 x 600 mm
SPECIFICATION MAY BE CHANGED WITHOUT PRIOR NOTICE IN CASE OF DESIGN MODIFICATION
STANDARD ACCESSORIES :
EXTRA ACCESSORIES:
DRILL CHUCK (KEY TYPE/ KEYLESS)
ELECTRIC MOTOR (1 HP/1440 RPM / 3PH OR 1 PH)
REV/ FORWARD SWITCH
V-BELT
DRILL SLEEVES
DRILL VICE, DRILL BITS, COMPOUND SLIDE
OPTIONAL FEATURES :
THREADED SPINDLE WITH NUT
COOLANT PUMP WITH TANK
COOLANT TYPE WORKING TABLE - 380 X 380 mm
DRILLING CUM TAPPING CONTROL PANEL